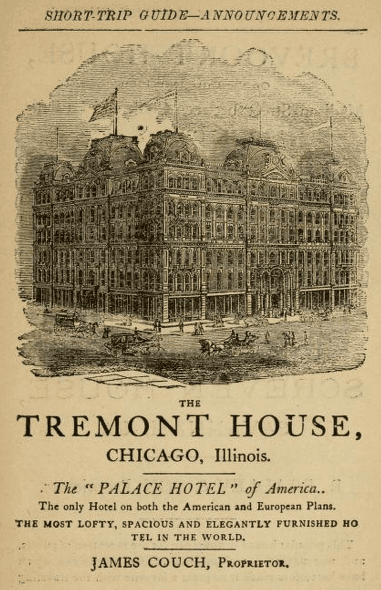 The Tremont House
Chicago is a city known for its architectural innovation, and we pride ourselves in our hotel's rich history. The very first Tremont House stood on the northwest corner of Dearborn and Lake in the iconic Chicago Loop, and was established as Chicago's first hotel in 1836. The original Tremont was destroyed in a fire in 1839 and was rebuilt on the southeast corner of the same intersection. The second hotel stood until 1849 when it met the same fate as its predecessor.
The third and most famous Tremont House was constructed in 1850 at the same site as the second, and was regarded as the leading hotel in the West. The Tremont was also a landmark for several important political events of the mid-19th century. Both Abraham Lincoln and Stephan Douglas announced their campaign for the Senate from the Tremont balcony, leading to the famous Lincoln-Douglas debates of 1858. During this time, the Tremont served as Lincoln's campaign headquarters.
In 1871, the Tremont House burned down yet again in what would become known as the Great Chicago Fire. A fourth Tremont was built two years later, and was eventually bought by Northwestern University in 1902 to house the law, dental, and business schools. The Tremont name then faded into memory for decades until John Coleman, a Chicago merchant banker, purchased our current location in 1976. Coleman, a pioneer in the boutique hotel concept, wanted an elegant alternative for elite business travelers in Chicago. After extensive renovations, he renamed the property the Tremont, reviving the name and prestige of the famous hotel. The Tremont was bought by Starwood Hotels and Resorts in 1998, and has since been providing the same outstanding guest experience that made our namesake a Chicago staple.
Book your stay today and be a part of a tradition as old as Chicago itself.